Curly hair is stunning in it's natural state. Here at Curlisto, we're all about women embracing and loving their natural texture. However, we know everybody likes to switch it up once in awhile. This is why our global artistic director, Christo created the evolutionary Diametrix Cutting Technique, which is proven to work on every type of curl texture! Not only does it reduce bulkiness and avoids the triangular shape, Diametrix hair cuts deliver perfect styling of both, naturally curly hair as well as straight hair!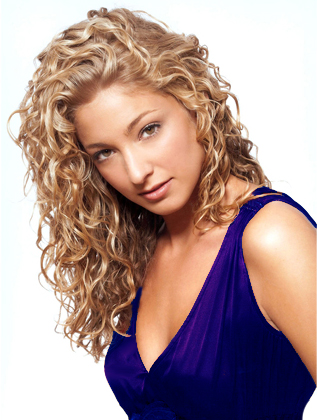 With that said, blow outs are a great way to change up your look and help you understand the length of your hair. We know DIY blow outs can be slightly difficult and time consuming for curly hair, so we asked the expert, Christo on how to smooth out your curls properly and in a timely manner.
Here's what he had to say:
"Before blow drying any type of hair texture, you should always apply a leave in conditioner on wet hair such as Repair Cream which is designed to keep your hair soft, frizz free, and moisturized throughout your styling process. Additionally, you must add a strong heat protectant to prevent damage. I highly recommend Straight Time Glaze, as it is not only blocks humidity but also seals in shine and conditions your strands."
"Now that your hair is fully protected, begin drying your hair 60-70% through. Start separating your hair into 5 sections from top to bottom so that you can easily work section by section. Use Curlisto's Medium or Large Natural Bristle brush (depending on your hair density and length) and smooth out your curls one section at a time. Our natural bristle brushes are beneficial because it allows your scalp's moisturizing oils to coat the whole strand rather than just staying concentrated at the top of your scalp while resulting in soft and sleek strands. Once you complete a section, give it a cool blast to help hold its shape and prevent frizz. (Hot air forms your hair; cool air sets the shape.) Many women skip this step, which is why the blow outs don't last."
"After you are done with all sections, take Curlisto's Medium Thermal Brush to quickly run one time throughout the head. This thermal brush will increase shine and add extra body to your style. Once you're done, grab a finger tip of Finishing Pomade for a final smooth out to create hold to your blow out, while taming fly aways and creating a beautiful, sleek finishing look!"
*As an added bonus, Christo would like to offer a special coupon to those who stop by Christo Fifth Avenue between November 13-18th. Enjoy 15% off on Repair Cream, Straight Time Glaze, and Finishing Pomade!